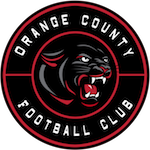 Orange County Football Club is a collegiate-club level soccer team that competes against universities in Southern California. I founded the team in 2015, when I realized there was a huge gap in talent and time commitment between intramurals and varsity–a gap which most soccer-playing students fell into.
The school's policy made it impossible to create a club within Chapman University, so I created a private organization. I funded the beginning myself, buying into the league, getting insurance, finding/reserving field space, designing/ordering jerseys, marketing, conducting tryouts and even coaching.
Now, over 100 people try out every year, and we expanded to include a women's team. The organization is known and well-liked on campus, and we provide competitive soccer to a large number of Chapman students every season.